Depending on your region and size of system solar can provide between 50-90% of your domestic hot water needs. A properly sized system will provide almost all of a home's hot water in the summer months. The following table provides a rough guide based on your location's climate and number of people.

Additional guides for whole countries with climate colour coded map: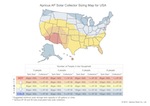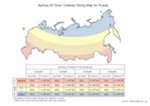 To understand more about collector efficiency, click here.