Apricus Installs system on Powell Street Apartment Building in San Francisco
Views: 17 Author: Site Editor Publish Time: 2015-02-21 Origin: Site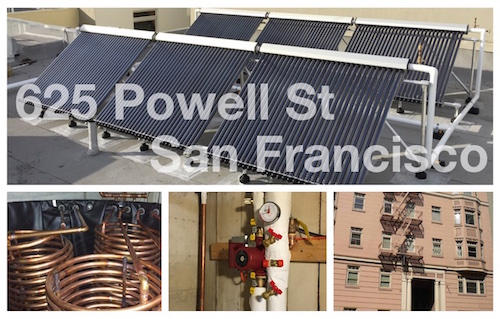 Located in downtown San Francisco on historic Powell St, with cable cars rolling past the front doors, this 22 apartment apartment building dates back to the early 1900's. Owned and managed by the Waldman Management Group, the apartments have been renovated to a modern, well appointed standard.
Apricus installed 12 x AP-30 solar collectors on the roof of the building, heating a 700 Gallon (2650L) storage tank that will pre-heat the cold water before supply to the existing gas water heater. The system is expected to reduce hot water gas usage by around 75%
The owners understand the benefits of solar from experience with other properties that have benefited from more than 20 years of solar energy savings. Apricus is working closely with them to add solar to other facilities including upgrading an old solar systems on another San Francisco property. Beyond the attractive financial savings, the owners are focused on providing comfortable and environmentally responsible housing solutions to their tennants.
Each year the system will produce around 43 MWh / 147 MMBtu of heat energy offsetting more than 11 metric tonnes / 24,500 lbs of CO2.
Click to download pdf case study
625_Powell_St_Apartments_San-Francisco.pdf.