Apricus Inc. Announces USGBC Membership
Views: 39 Author: Site Editor Publish Time: 2012-02-28 Origin: Site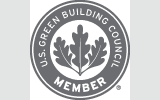 Apricus, a leading designer and manufacturer of solar hot water and hydronic heating products, is pleased to announce their membership with the U.S. Green Building Council (USGBC).
The USGBC is a member-driven organization committed to a prosperous and sustainable future for our nation through cost-efficient and energy-saving green buildings. One of the USGBC's main objectives is to promote Leadership in Energy and Environmental Design (LEED), an internationally recognized third-party certification system for buildings and communities that are transforming the building industry toward energy and water efficiency, better stewardship of our natural resources, and a healthier living, working and learning environment.
Apricus's full line of products, including the AP-30C Buy American Act & ARRA compliant evacuated tube solar collector, can contribute significantly towards a building's LEED certification helping architects and building professionals achieve their sustainability goals.
"We are committed to working towards a sustainable future through solar heating and cooling technology, said Nigel Ruddell, Vice President at Apricus Inc. Our high quality products are cost-efficient and help users significantly reduce their CO2 footprint. A membership with USGBC will allow us to further provide education and increase public awareness of the benefits and potential applications of solar hot water technology.