PTS Ireland launches Apricus solar package
Views: 9 Author: Site Editor Publish Time: 2013-09-24 Origin: Site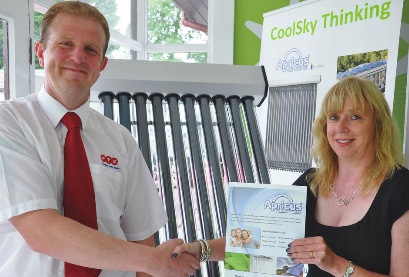 Pictured above: Kathy McVeigh, Coolsky CEO & Mark Sheridan of PTS.
PTS Ireland has announced a new distribution deal to offer a complete solar hot water package to customers in Northern Ireland and the Republic of Ireland featuring an Apricus evaucated tube solar collector coupled to a Hothead cylinder from Copper Industries. Local product supply, training and technical support in the UK and Ireland is provided by Apricus partner Coolsky Ltd.
Click to download
PTS-Coolsky-cooperation-article.pdf, the full article from the Aug-Sep 2013 edition of the Plumbing & Heating Magazine.