Apricus system installed on Mass Maritime Academy
Views: 18 Author: Site Editor Publish Time: 2015-11-15 Origin: Site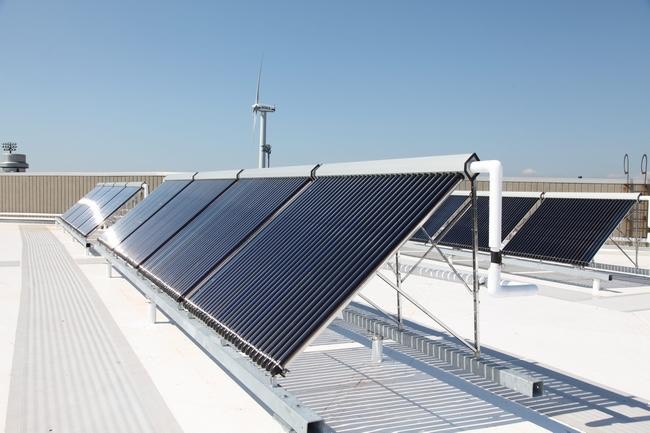 Apricus' long term partner in the Massachusetts market, Renewable Energy Systems (RES) recently completed a major installation for the Athletic Facilty at Mass Maritime Academy, a naval training academy located on Cape Code, Massachusetts.
The system was installed in September 2015. It is located on the University's athletic facility and funded through the Massachusetts Clean Energy Council (Mass CEC) and with a separate grant from the Mass DEP. The system delivers heat to the domestic hot water and pool using 24 Apricus Evacuated Tube Solar Collectors. In the first two months the system has saved over 600 Therms and has a projected 2,500 Therm savings per year. The systems design allows either the pool or the DHW to be heated depending on weather conditions greatly increasing efficiency.
From the MMA website: Massachusetts Maritime Academy is a fully accredited, four year, co-educational state university offering Bachelor and Master of Science degrees that are highly regarded in the worldwide maritime industry and beyond. Located on Cape Cod, at the mouth of the scenic Cape Cod Canal, Massachusetts Maritime Academy is the ideal college to pursue your love for the ocean, your concern for the environment, your interest in math and science, and your thirst for adventure.
RES was also featured in the Cohasset local news, including an interview with RES owner Erica Boyle who was quoted as saying "There's a lot of solar in the state and in the country," said Boyle. "You don't see it because it's hidden up on roofs – and that's kind of wonderful. It's seamless. The person who's swimming in the pool doesn't have any knowledge; they don't know they're saving gas with the system."
In response to a question about why solar is not more widely employed in the state, Erica stated "I think, if they knew more about it here, people would be very receptive,"